7 November 2013 - Catch and Release!
Two years ago, 149 people kickstarted A Tangled Tale. The short film breaks the mold of sand animation with it's vibrant, colorful blend of physical and digital techniques. Now, after swimming around the world to festivals near and far, the sandy fish are online for the first time. The film immediately became a Vimeo Staff Pick and was featured on several fishing and animation blogs, including an extensive interview with the director on Skwigly.
In this unusual romance, hand-tinted sand, becomes a metaphor for two souls as they join and separate. A lonely fish, hooked by an angler's line, encounters another in the same dire situation. As the two struggle, the physical connection moves deeper. Is it love or merely a will to survive?
News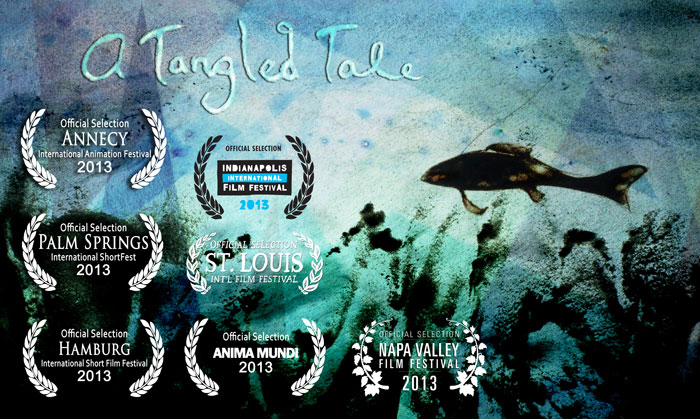 25 October 2013 -Festival screenings!
A Tangled Tale is making its way around the world. The sandy fish have graced the screens at Annecy International Animation Festival, DOK Leipzig and AnimaMundi, just to name a few. The full list of festival screenings is on the Tangled Tale website, or keep up to date on my festival adventures on twitter.
1 October 2013 - Hana Sasaki hits the shelves
The magical, winsome Kelly Luce has released her first collection of strange stories set in Japan, and I had the great joy of making her book trailer.
Recent projects:

Short Films:
Want to see more?
See some of Corrie's recent experiments and collaborations on Vimeo
Or use the links above to navigate through the world of this artist of motion.
Some Links worth visiting:

Animation
Art